Are you a woman


Experiencing domestic or family violence??
Our Safety & Healing Program is here to help.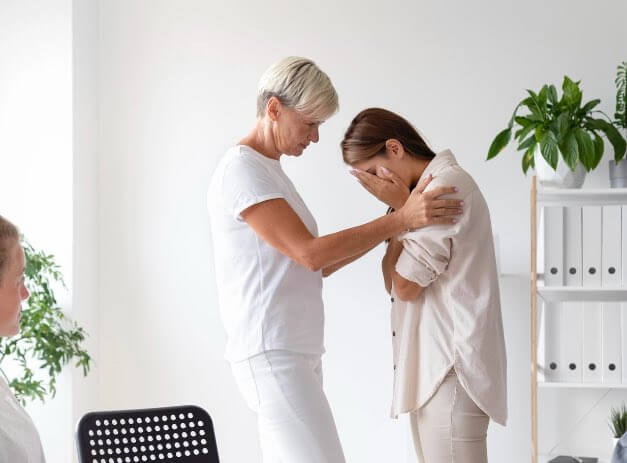 Our Safety and Healing Program supports you in your domestic and family violence journey.
We are a trauma informed, strengths based, client focused service where you can come as you are from whatever stage you are at. We then walk alongside you to build on existing skills and resources in ways that are culturally respectful and empowering.
The staff here will hear you, believe you and support you in making decisions about your own needs.
WE, AS A TEAM, BELIEVE THAT WOMEN HAVE THE RIGHT TO –
LIVE FREE FROM VIOLENCE
LIVE FREE FROM THE FEAR OF VIOLENCE
LIVE FREE FROM DISCRIMINATION
LIVE FREE FROM TORTURE
HAVE AUTONOMY OVER THEIR OWN BODIES
We are offering a safe relationship with a qualified professional:
Provide emotional support
Be empowered
Gain clarity
Explore options
Set tasks toward achievable goals
Process grief and loss
Create a Safety Plan
Create a plan for the future
Understand the short and long-term impacts of violence
Be connected with support services including legal advice, Housing
Gain self-confidence
Learn strategies for coping
Learn strategies for healing
Learn about building trusting relationships
Comment from a grateful client
Hello again Bernadette
Yet again you and Orana have helped ***** to finally escape DV. Sometimes, as you know, it takes a number of attempts and as her husband is now 'in care', she should be free to enjoy the remainder of her life.
Thank you, for all the compassionate and professional work you do. You are a shining light in a sometimes dark world.
If this is an emergency please contact 000 otherwise a staff member will contact you back, between Monday – Thursday 9:30am – 3pm. If you would like to chat to someone about what is going on for you, please call the centre and speak to the Coordinator or complete the Referral form.